Welcome
This site is dedicated to Skulpture, a GUI style addon for
KDE
programs. It features classical, three-dimensional artwork, along with other features not found in other styles.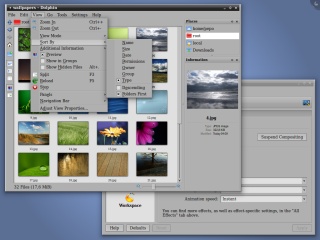 KDE Desktop with Skulpture style
The name
Skulpture
has been choosen with these design principles in mind:
Skulpture has a classical look

Flat gradients are used to oppose the current trend of shiny or "glassy" buttons used in other styles, giving it a conventional classical look that can stand the whole KDE 4 lifetime, if not longer.



Skulpture is three-dimensional

Light and shadow effects are applied to generate the impression of a three-dimensional user interface, with elements raised out of (and sunken into) the window surface.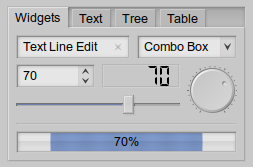 Three-dimensional appearance
Skulpture is real artwork

Giving it a photo-realistic (antialiased) appearance, pixel-perfect alignment and spacing between user interface elements, this style has been created to please users eyes.
Download
The current stable version of Skulpture is 0.2.4, released on 08-Feb-2010. You can freely download it from the KDE store:
Please do not forget to give feedback: add a comment to the KDE store page or just send a mail to the author (address below).
Other versions can be downloaded here:
---
11-Nov-2008
Skulpture RSS feed moved to WordPress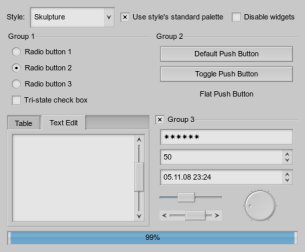 New Skulpture CheckBox/RadioButton artwork
---
Contact Author